February 7, 2010
A Schoenberg Multimedia Riot
[The sound of Max Bruch's Kol Nidrei is heard, starting with the full sound of the cello, as Arnold Schoenberg and Theodor Adorno listen.]

Schoenberg: "Stop! Today is Yom Kippur, the Day of Atonement when Kol Nidre is played. But why always Max Bruch's? At least up here, on Parnassus, let's hear my version for a change. Without the cello sentimentality of the Bruch. It needs words ... not just music!"

[Schoenberg's Kol Nidre (Op. 39) is heard through the musical introduction, the male singer reciting the text.]

Adorno: "Enough! You've made your point, but this isn't about music — 12-tone or otherwise ..."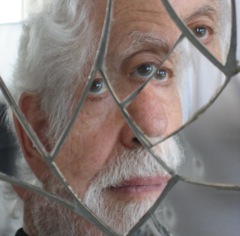 In fact, this work, Carl Djerassi's Schoenberg on Parnassus, is about music, but also about chess, philosophy, politics, Paul Klee's Jewishness, Theodor Adorno's musicology, Walter Benjamin's Marxism, and much, much more.
This wild and crazy multimedia event, coming to San Francisco's Contemporary Jewish Museum, opposite Yerba Buena Center, on Feb. 7, is a sophisticated, esoteric, academic play-conversation-concert. It is clever and chaotic and challenging and — to some — simply perplexing.
Djerassi, 86, is a Stanford chemistry professor emeritus, novelist, and founder of the Djerassi Resident Artists Program near his home in Woodside. The name may be familiar from his most famous accomplishment, Djerassi being one of the fathers, so to speak, of the birth control pill.
Schoenberg on Parnassus is a staged segment of his book Four Jews on Parnassus: A Conversation, or imagined posthumous conversations among Schoenberg, Benjamin, Gershom Scholem, and Adorno.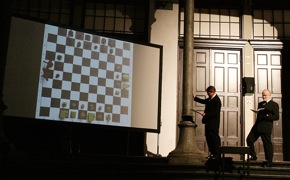 The four are interconnected in multiple ways, and through these dialogues Djerassi is exploring ideas of identity, canonization, and his own story as a Jew who had to flee Nazi Austria in 1938.
This production, directed by Vienna-based Isabella Gregor, features the London opera singer Loré Lixenberg; actors Gerry Hiken, Ken Sonkin, and Bill Wolak; and Stanford drama professors Kay Kostopolous and Rush Rehm. The music ranges from Schoenberg to a commissioned rap song by Eric Weiner, a San Franciscan, to an Icelandic pop song.
Paul Klee's artwork is also prominent; Djerassi is a major collector of his works and has bequeathed his entire Klee collection to the San Francisco Museum of Modern Art.
The San Francisco event is cosponsored by the Stanford Institute for Creativity in the Arts and the National Center for New Plays at Stanford. There will be what organizers call a "related but different reading" in Stanford's Pigott Theater at 7:30 p.m., Feb. 6. The two events represent the U.S. premiere of Schoenberg on Parnassus; numerous performances of various segments of the work have been given in Europe.
Event Information
Schoenberg on Parnassus
Organization: Contemporary Jewish Museum
Venue: Contemporary Jewish Museum
City: San Francisco
Date: February 7, 2010 2:00 PM
Price Range: $30-35
Tickets: (415) 655-7881