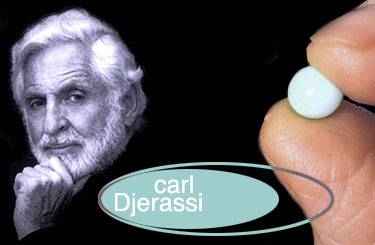 A lady's man
An interview with Carl Djerassi, the father of modern contraception
- - - - - - - - - - - -
By David Bowman
Nov. 14, 2001 | Mexico is the underbelly psyche of America -- a place under the volcano, a dangerous place populated by drug lords, whores and bullfighters. It's a place you go to disappear, as Ambrose Bierce and B. Traven did; a place where you shoot your wife in the head as a joke gone wrong, as expatriate writer William Burroughs did in Mexico City in September 1951. It was also in Mexico City, one month later, that Vienna-born chemist Carl Djerassi invented the birth control pill.
Djerassi doesn't see the connection between himself and Burroughs. It pisses him off.



---

"This Man's Pill: Reflections on the 50th Birthday of the Pill"

By Carl Djerassi

Oxford University Press
308 pages
Memoir
"Can't we at least romanticize your years in Mexico?" I ask Djerassi.
"Yes," he says. "I romanticize them all the time, I think with justification. This was the first time and the last time when steroid chemistry was done in a Third World country where no research had been published before. I enjoyed Mexico enormously. I was young. I was -- what was I? -- I was 26 when I moved to Mexico City. I learned a new language. I became a collector of pre-Colombian art. I was fascinated by traveling in Mexico."
Djerassi was born in pre-World War II Vienna. His family fled to New York in 1938, and he graduated Phi Beta Kappa from Kenyon College in Ohio. His first job was as a junior chemist with a Swiss pharmaceutical company where he helped invent a powerful antihistamine called Pyribenzamine. He then scored a Ph.D. at the University of Wisconsin and drifted south to form a Mexico City chemical company called Syntex. The company's supreme achievement, the oral female contraceptive, would forever be called "the Pill" (or la Pilule, la Píldora, la Pillola, die Pille).
For many years, Djerassi assumed Aldous Huxley had coined the term in "Brave New World," but after much digging he discovered the moniker's source was a London police officer/journalist named Cecil Hewitt. Forty-some years later, the Pill's invention inspired the London Sunday Times Magazine to include Djerassi as one of "the Top Thirty Persons of the Millennium." In his new book, "The Man's Pill: Reflections on the 50th Birthday of the Pill," Djerassi notes his inclusion on this list vs. the omission of such historic personalities as Genghis Khan, Mahatma Gandhi and the Beatles.
"[My mention] is patently ludicrous by any criterion but one: as a surrogate for the Pill," he writes. He believes that his Pill is "one of the most monumental movements in recent times" because it separated "the coital act from conception." In his peculiar but enthralling book, Djerassi discusses his own experiences and misadventures in both activities.
He also writes about chemistry in prose that is as inspired as fellow scientist Thomas Pynchon's. Djerassi is less interesting when he writes about the writing life. Besides his scientific achievements (which include the invention of a glorified bug spray), Djerassi is a playwright and a novelist. He is married to Diane Middlebrook, professor of English at Stanford University. They live in San Francisco.
The invention of the Pill put Djerassi on Easy Street so he could also become a wealthy philanthropist of the arts. Like an intellectual Genghis Khan, Djerassi now wants to share with us the clarity of arrogant wisdom.
Next page |
1, ,